Medical Translation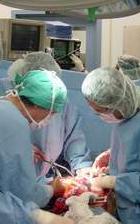 The fact that medical technology is advancing at breathtaking speed makes medical translation a daunting task that only competent individuals with the proper background and who have access to research tools should attempt. It is not only the wide range of technical terminology, names of diseases, drugs and disorders that make medical translation challenging, after all these might be found in a good dictionary or medical glossary, but a proper understanding of the biological and chemical process being described is also essential.

Here at turkishenglish.com our medical translation team has performed an impressive number of important translations. We have been chosen to translate the published studies of Turkish doctors appearing in well-known medical journals for a broader English-speaking audience. Another area of medical translation in which our team regularly does translation is medical questionnaires and patient surveys, including back translation and quality control. We are proud of our team and their contribution to the advancement of medicine in general, and to Turkish doctors and researchers in particular.

To get some idea of their breadth of knowledge and experience, please see below a sampling of some of their translations.
European Patent No. 1226160: Novel Antiarrhythmic Peptides (97 pages)
Comparison of Dexmedetomidine and Lidocaine in the Prevention of Rocuronium Injection Pain - Journal of the Turkish Anesthesiology and Recovery Association 2004:32:344-348
Comparison of the Effects of Midazolam and Sevoflurane on Oculocardiac Reflex - Journal of the Turkish Anesthesiology and Recovery Association 2004: 32: 367-372
Muscle Relaxant Consumption in Inhalation and Intravenous Anesthesia - Journal of the Turkish Anesthesiology and Recovery Association 2004: 32: 379-382
Addition of Articaine to Bupivacaine Speeds Up Sensory Block Onset During Epidural Anesthesia/Epidural Anestezide Bupivakaine Artikain İlavesi Duyusal Blok Başlangıcını Hızlandırmaktadır - Journal of the Turkish Anest and Resusc Assoc 2004: 32: 193-199/Türk Anest Rean Der Dergisi 2004: 32: 193-199
The Effects of Desflurane, Sevoflurane and Halothane Anesthesia on Recovery in Children
The Effectiveness of "Reliefband" and Metochlopramide on Nausea and Vomiting Related to Morphine in Intravenous Patient Controlled Analgesia - Journal of the Turkish Anest and Resusc Assosc 2004: 32: 180-186
Effects of Sevoflurane and Isoflurane on Urea Cycle and Hepatic Functions - Journal of the Turkish Anesthesiology and Recovery Association 26:298-301, 1998
Postoperative Renal Function In Obstructive Jaundice And The Effect Of Dopamine, Mannitol And Lactulose: A Prospective Clinical Study
Comparison of the Effects of Preloading with HES or 0.9% NaCI on Biochemistry of Blood During TURP
Effect of the Time lapse between application of Succinylcholine and the Verconium "Priming" Dose on Fasciculations and Postoperative Myalgi
A Comparison of Diazepam, Midazolam and a Midazolam-Ketamine Combination of Oral Pre-medication in Children - Turkish Journal of Anesthesiology and Recovery 25: 438-446, 1997
The Practice of "Patient Controlled Analgesia=PCA" in the Treatment of Postoperative Pain in Children - Turk Anest Assoc Journal 24: 273-277, 1996
Effect of Adenosine in the Termination of Induced Paroxismal Supraventricular Tachycardias and a Comparison with Verapamil - Turkish Cardiology Assoc. Archives 24: 144-148, 1996
Effect of Adenosine in the Termination of Induced Paroxismal Supraventricular Tachycardias and a Comparison with Verapamil - Turkish Cardiology Assoc. Archives 24-.144-148, 1996
Effectiveness and Reliability of Intravenous Diltiazem and Verapamil in Acute Treatment of Atrial Fibrillation - Turkish Cardiology Assoc. Archives 24:36-42, 1996
Drugs have widespread effects on internal organs, and our translators take care to use the correct terminology Addition of Articaine to Bupivacaine in Epidural Anesthesia Speeds Up The Sensory Block- Journal of the Turkish Anest and Resusc Assosc 2004: 32: 193-199
Prolonged Apnea Following Electroconvulsive Therapy In A Patient With Attempted Suicide Using Organophsophate: A Case Study
The Effects of the Addition of Fentanyl, Morphine and Alfentanyl to Intrathecal Bupivacaine in Cesarean Procedures - Journal of Anesthesiology 2002: 10 (3): 188-192
Serum Hormone levels in children receiving anti-epileptic treatment - Journal of Childhood Health and Diseases 2002: 46: 182-186
The Effect of Neuraxial Type Blocks on Postoperative Pain After Total Hip Replacement Surgery: A Comparison of Spinal and Epidural Anesthesiology - Journal of the Turkish Anesthesiology and Recovery Association 2004: 32: 40-46
Comparison of Induction Characteristics of Sevoflurane and Halothan Induction Administered with Two Different Methods - Journal of Anesthesia / Anestezi Dergisi 2004: 12 (3) : 207 - 212
Drug-associated hepatotoxicity - Journal of Childhood Health and Diseases / Çocuk Sağlığı ve Hastalıkları Dergisi 2004: 47: 222-227
Analgesia and Sedation in Newborns - Syndrome Medical Journal / Sendrom Tıp Dergisi 14(5):42-50, 2004